Malaysia, 7 May 2015 – According to the recent JobStreet.com survey on Employees' Job Satisfaction in Malaysia, a staggering 74% of the respondents claimed that they were not satisfied with their current jobs. However, the results showed some slight improvement from 78% when compared to a similar survey conducted in September 2012. Despite the 4% improvement, the number of dissatisfied employees is still high.
High Dissatisfaction At Work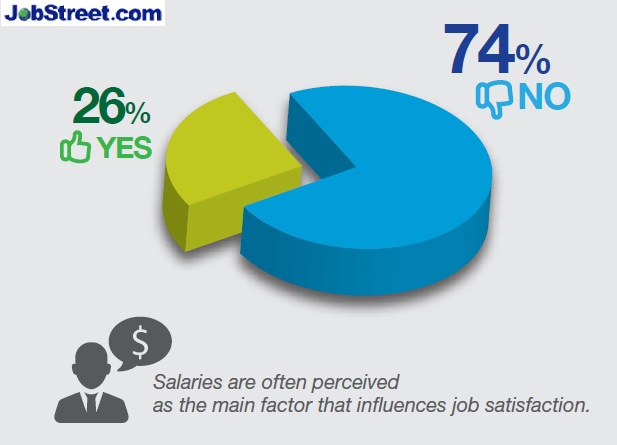 Salaries are often perceived as the main factor that influences job satisfaction. However, only 11% of the respondents disclosed that their salaries were a compelling factor in their job dissatisfaction. A majority at 71% have revealed that the main cause for this dissatisfaction is due to poor quality of leadership or management in companies. The disturbing matter, however, is that more than half of these discontented employees include senior executives and managers.
When asked about their opinion in terms of salary, 61% of the total respondents felt that their salaries were low or not enough to survive with. On the other hand, 37% of the respondents said that they are getting reasonable wages from their companies.
What Malaysians Think About Their Salaries?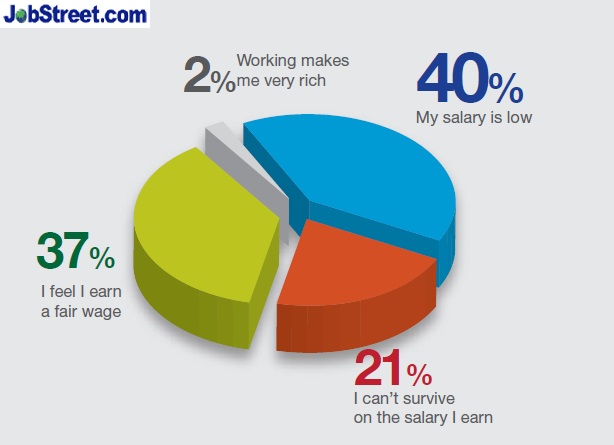 From the 74% of respondents who are not satisfied with their jobs, 57% of them intend to leave their current job in less than a year. Some 32% of these unhappy employees plan to leave within the next 3 years. Hence, these results suggest that 89% of these unhappy employees could leave their companies in less than 3 years, something employers should be mindful of.
How Long Will Unhappy Employees Stay In The Company?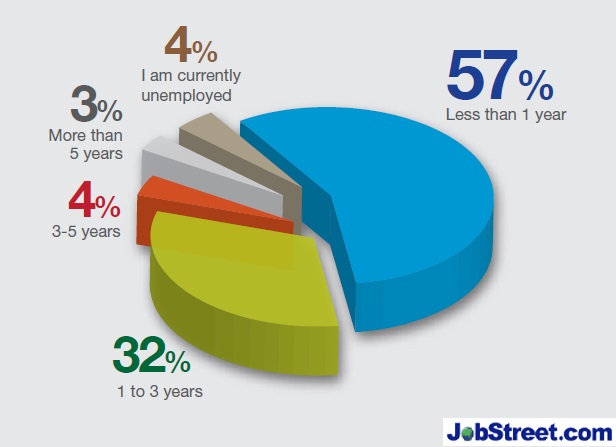 Note: A total of 631 employees took part in the Job Satisfaction Survey that was conducted by JobStreet.com
Disclaimer
The document is based on information obtained from our survey and we do not make any representation or warranty as to its accuracy, completeness or correctness. Opinions expressed are subject to change without notice. This document is prepared for general circulation and republication is allowed provided JobStreet.com is mentioned as the contributor. This document is not to be taken in substitution for the exercise of judgment by addressees. JobStreet.com accepts no liability whatsoever for any direct or consequential loss arising from any use of this document or further communication given in relation to this document.
About JobStreet.com
JobStreet.com ( www.jobstreet.com ) is a leading online recruitment company presently covering the employment markets in Malaysia, Singapore, Philippines, Indonesia and Vietnam. The Group currently services over 230,000 corporate customers and over 15 million jobseekers in its database.
Media Contact:
For more information about this news release, or to schedule an interview with JobStreet.com, please email or contact the Marketing department at email [email protected] or 603-2176 0333.