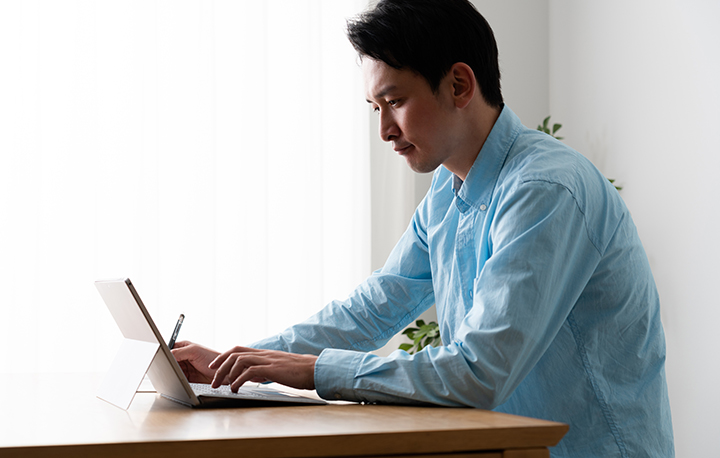 Planning to switch roles or even industries? While it may be easier to apply for a job within the same track or field that you are in, perhaps you're aching to follow a new calling. You might want to try your hand in a different industry where you lack directly-related work experience. There are various reasons people change careers, which may include but are not limited to the following factors:
Other industries pay better than your current field
You want a better work-life balance
You're too stressed and need a change of pace and scenery
You're following a hidden or newfound calling or passion
But, if you are worried about the prospects of getting hired in a completely new and different field, fret not. There are ways to get a foot in the door and win the role in your new dream career.
This is where putting transferable skills in your resume comes in handy. Even without directly relevant work experience, transferable skills are versatile capabilities considered assets across different fields. Having the right transferable skills helps recruiters recognise your value, even with the lack of industry-specific experience.
What are transferable skills?
Transferable skills are abilities or expertise that employers may consider assets or essential, even if you come from a different industry. You learn these skills throughout your various work experiences or even other life experiences such as volunteer work. You develop these abilities through your education, training, and employment.
Just what skills are considered transferable? Think of these as your "general" skills: capabilities that continue to make you effective and more productive regardless of which workplace you are in. These may include versatile abilities, such ascommunication(e.g., writing and listening),organisational skills(e.g., planning and time management), or evenpeople skills(e.g., empathy and flexibility).
Why do you need transferable skills?
Transferable skills prove to an employer that you can make a valuable contribution to the company. Many of these transferable skills are fundamental capabilities that can determine your ability or likelihood of excelling at a task. Having the right set of transferable skills can help you transition and adjust to any role or industry, even if you have transferred from one job to another.
Other transferable skills include:
Leadership qualities
Creative problem-solving
Financial management
Teamwork
Empathy
Diplomacy
Attention to detail
As you can see, transferable skills may cover numerous aspects of work. Having empathy and diplomacy, for example, is considered essential when you are working in a team setting and are expected to be a team player who easily adapts to various personalities. Meanwhile, having attention to detail and financial management can help you in analytical roles where one overlooked mistake can spell multiple challenges.
On top of this, employers highly value talent who can easily adapt to a constantly changing work environment. Emphasising your transferable skills in your curriculum vitae or resume allows employers from different industries to realise your potential and versatility. This helps you stand out from other job applicants because you are more adaptable and quick to respond to a situation.
Tips for building a transferable skills-focused resume
Now that we have established the importance of transferable skills, we can now proceed to the nitty-gritty of resume writing.
1. Identify your transferable skills.
Before creating your professional resume, you need to identify the skills you currently possess that can be utilised in another industry. Take a few minutes to jot down all the transferable skills you have acquired from your past experiences.
Knowing and listing all your transferable skills will help you gain an in-depth knowledge of your strength as a candidate. Here are some examples of transferable skills according to different job aspects:
Organisational and execution skills
Organisational and execution skillsdetermine how you plan, prepare, and achieve your individual goals and objectives. These include the following:
Planning. Coming up with a clear, comprehensive, and cohesive plan that matches the mission and strategy of the company.
Organising. Knowing how to delegate resources and arrange tasks and needs to support and execute the first plan.
Multi-tasking. In today's fast-paced environment, multi-tasking will allow you to achieve several things by organising, prioritising, and managing your time well.
Technological competence. Keeping up-to-date with the present technology skills of your preferred career is important in achieving success.
Communication skills
Effective communication ensures that you and your team are on the same page. With this, you will be able to achieve the company's business goals together, and you can foster good relationships with clients and partners.
Listening. Active listening is an overlooked yet highly essential transferable skill.
Verbal communication. If you can communicate your thoughts well, provide insightful and appropriate sentiments, and remain thoughtful and courteous even in conflict, that is a good sign.
Writing. From writing letters to presentations, decks, and press releases, writing is also a handy skill.
Face-to-face. Face-to-face communication is crucial in teams that frequently work with other people, such as managers.
Picking the right medium. Another critical communication skill is the ability to select the best medium for your audience and message. You must understand the strengths and limitations of the different mediums. You must also have the ability to recognise the most suitable medium to reach and influence your audience.
People skills
People skills allow you to effectively collaborate and work with various people and personalities.
Cooperation. Being able to work together and effectively contribute to achieving goals and projects.
Empathy. We become compassionate and allow room for relationships to grow as we seek to see them from other people's viewpoints. It gives us an insight into people's motives, helping us anticipate attitudes and reactions.
Flexibility. Are you ready to change and adapt quickly?
Cultural sensitivity and awareness. It is crucial to be culturally conscious and respectful in this globalised world.
Leadership qualities
Having leadership qualities means you inspire people to complete the job, evaluate a situation, and make crucial decisions. Some leadership qualities include the following:
Prioritisation and delegation.
2. Find out the requirements for your preferred role or industry.
Research about the role or industry that you are eyeing. What does the job entail? What are the industry-specific skills needed for the part?
By understanding what is expected from potential candidates, you can refine your list and choose the most relevant transferable skills for the job you are applying for. For example, you can highlight your organisational and communication skills for jobs that require experience in administrative duties.
3. Keep in mind the personality traits that employers prefer.
An increasing number of employers are now investing in not just the right skills, but the right people. How can you use this to your advantage?
When checking job ads, be on the lookout for descriptive words that pertain to personality traits, such as "reliable," "self-motivated," and "good stakeholder management." These personality traits are also transferable skills that can make up for the technical skills you do not have.
4. Be descriptive and use powerful keywords.
A transferable skills-based curriculum vitae is similar to the usual resume. The only difference is that the former focuses more on highlighting the relevant skill sets you have.
When writing your transferable skills for your resume, make sure you are as descriptive as possible. You can add bullet points for your skills under the previously-held roles. Better yet, you can create a separate section for your key skills where you can describe how you have utilised them in the past. Don't forget to use powerful keywords to help your resume stand out.
5. Be confident in your abilities.
Industry-specific experience is not the be-all and end-all when it comes to employability. Believe in yourself and show employers you have more to offer: a solid set of transferable skills that enable you to learn, adapt, and excel. For many employers, passion, drive, and dedication can be more important than years of experience.
Transferable Skills Resume Example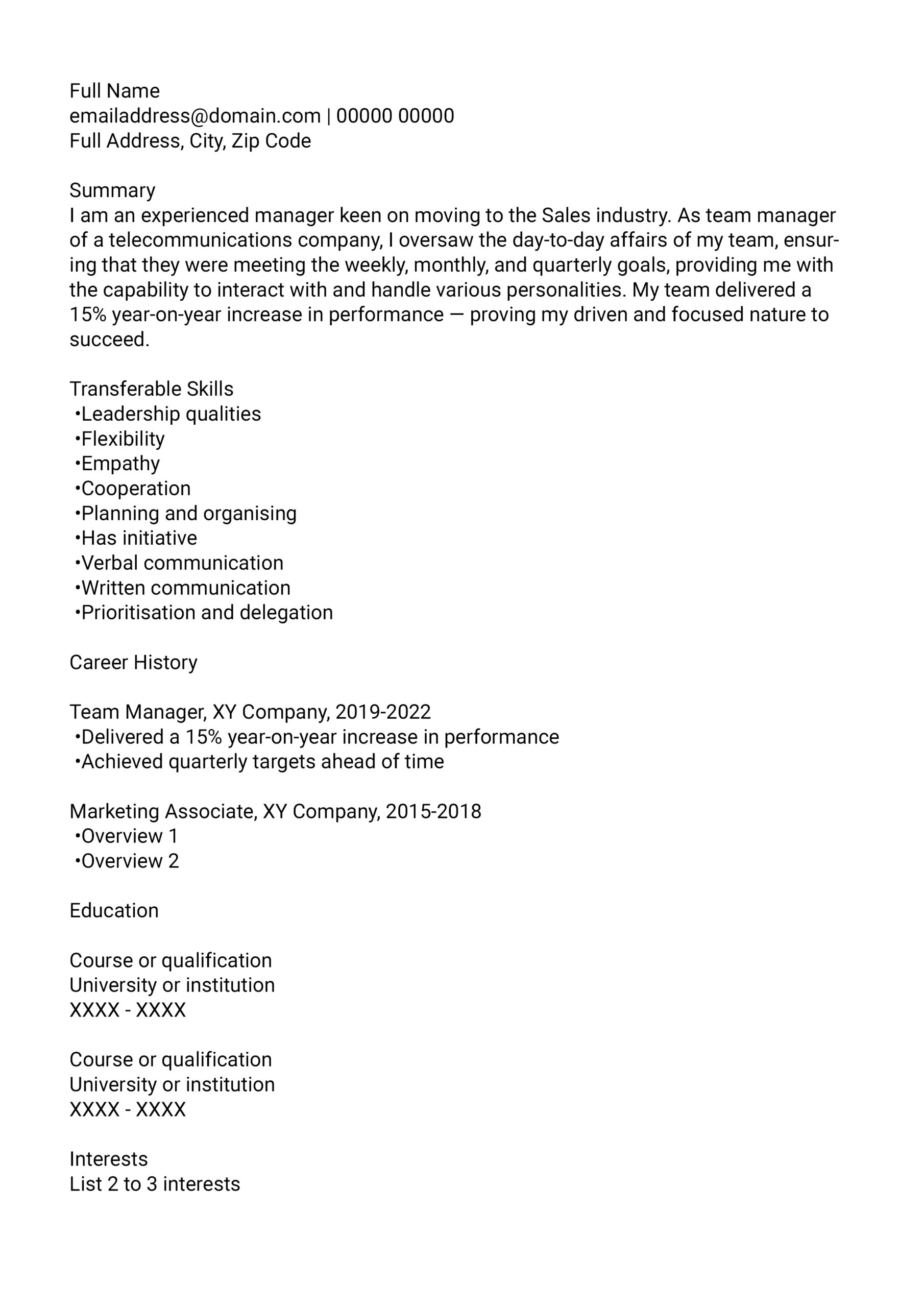 You may download the resume sample here.
Still wondering how to highlight your transferable skills in your application? Check out these free resume templates that will make you stand out.
Ready to jumpstart your journey on a new career path? Then #LetsGetToWork! Put yourself out there by updating your JobStreet profile.
Finally, for more expert tips and advice on finding your dream career, visit our Career Resources Hub.